Gregory Pyra Piro Perfume Bottle Pendants Collectibles
close
Gregory Pyra Piro perfume bottle pendants collectibles. Click the video above to play and subscribe.
Find Out Why and How is this Jewellery so Different and Unique
The Composition
The Gregory Pyra Piro clock sculpture "Gateway to the Universe"
An amazing scultpre where there are sculptures within themselves. Work with incredible detail an orginal by artist Gregory Pyra Piro made in the 2010's.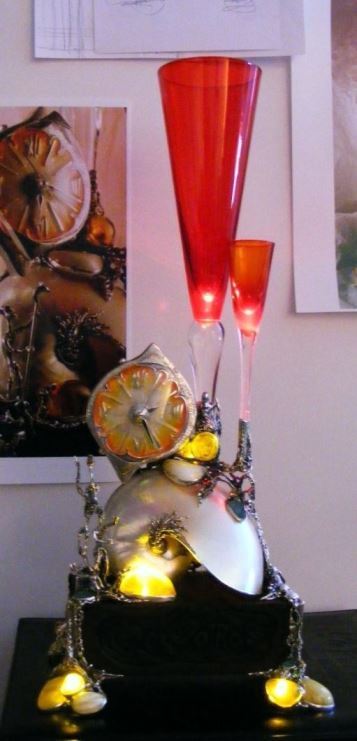 The base of the sculpture is made from oakwood. The base metal is in sterling silver which has solid 14 karat gold accents. The clock has an enamel coating. The glasses with the clock sit on a nautilus shell. The sculpture has a combination of amber with drusy, pearls, and natural faceted gemstones. The gemstones include peridot and garnet.
The amber is lit up with LED lights to give the clock a special effect.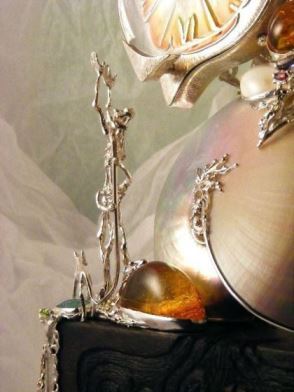 Each part of the sculpture is intricate in detail and is a sculpture within itself.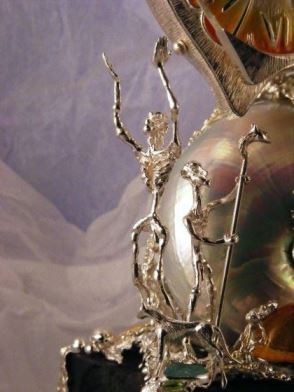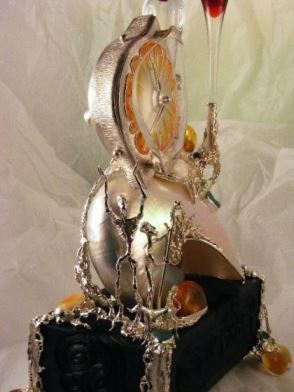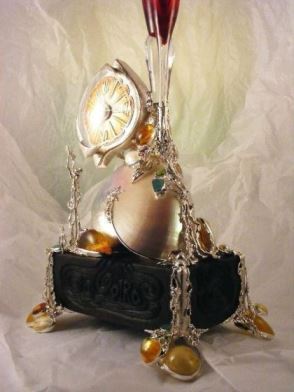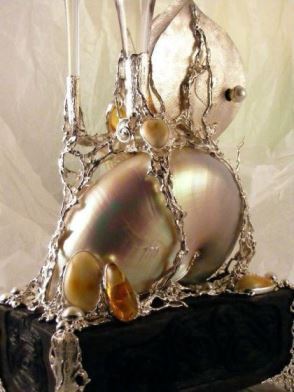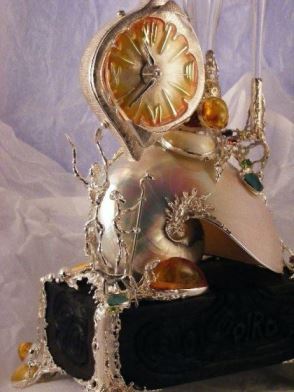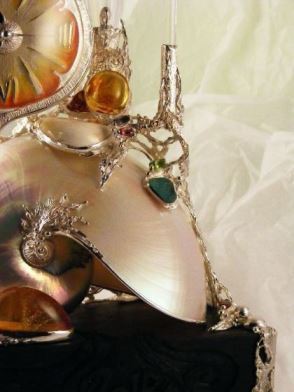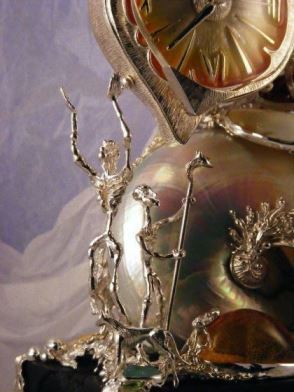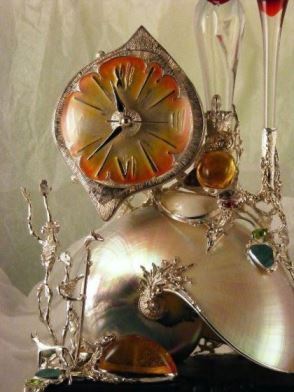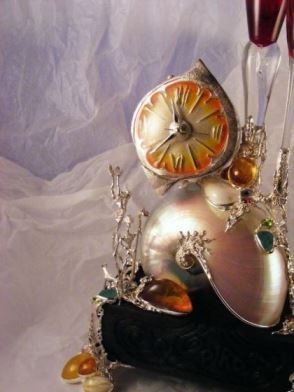 How All this is Made
Originally made with handtools and soldering this jewellery is still made in the same way as it was. The base part of each piece is made from sterling silver, which is bent, shaped, hammered, and cut with handtools. The base has some additional torch work to give it a unique shape and design. Each of the bezels for the stones is custom made from scratch for each gemstone. The base, bezels, and other components are soldered together by torch. Nothing is cast. Torch work which melts the metal creates unique patterns which never repeat in the same way twice. The addition of 14 karat gold work is added by soldering 14 karat or 18 karat gold wire over the sterling silver base. The solid gold wire melts forming unique patterns at the same time as it is soldered. The torch here works exactly like a paint brush and the wire works like oil paint on canvas. This jewellery is very different because it is made in a very different way. If you like any of the pieces visit our home page to see the new ones.
Click Here to Reset Page
Gregory Pyra Piro Art Jewellery is Sophisticated in Design and Intricate in Detail
Over the course of Gregory's long time in the US, Gregory's jewellery has gone a different direction and has gained a different form. In the states Gregory's jewellery got some changes, the addition of faceted gemstones with pearls, or for some pieces the addition of seaglass or beach glass. To have semi precious gemstones and seaglass in handmade jewellery is similar to some of British artist handcrafted jewellery in the British craft movement in Britian. Despite of where Gregory's jewellery was made, whether it was in Europe or in the states, and whatever the jewellery had the intricate detail and sophisticated design has always remained.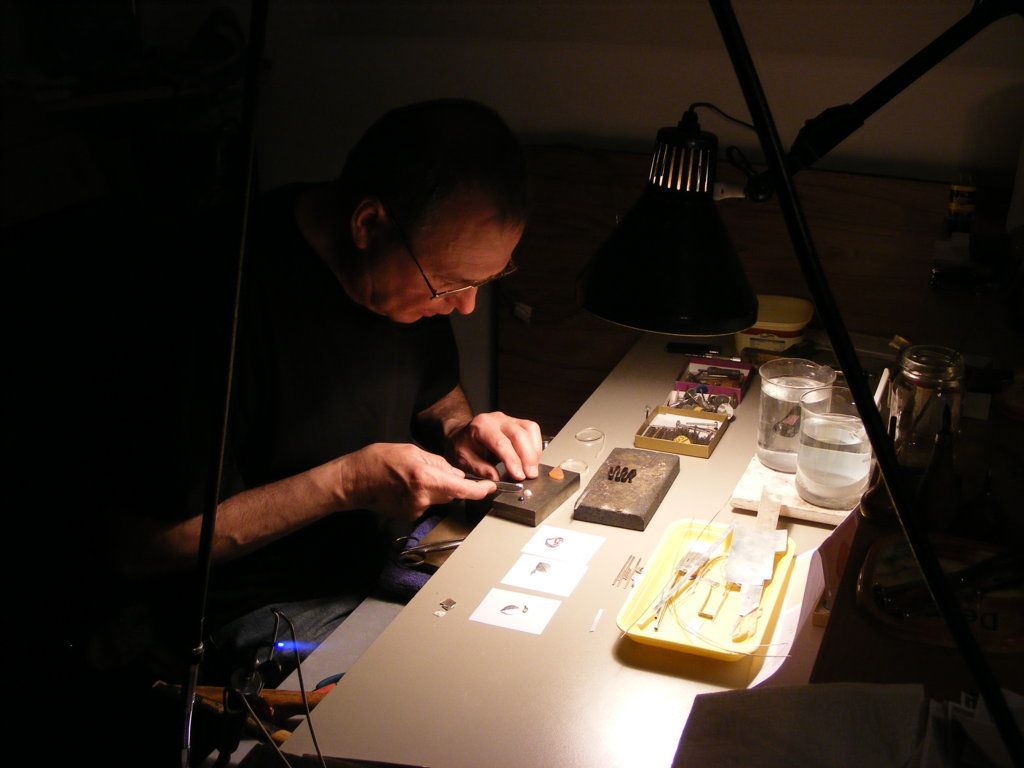 about the artist Gregory Pyra Piro
Gregory Pyra Piro, originally from Poland has created jewellery since in the 1960's, beginning in Poland. Original works included works from silver, amber, and addition of other gemstones such as amethyst, pearls, ammonite, and abalone. Some of his works had made their way to museums where his collections still can be seen in Malbork and Gdansk. Gregory didn't just make jewellery, but also made different forms of work such as cups, mirrors, chalices, etc.


Gregory Pyra Piro Chalices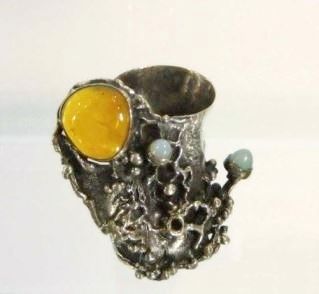 Gregory Pyra Piro silver cup with gemstones
Materials for these works other than just silver and amber, also included ebony wood, glass, shells, pearls, etc.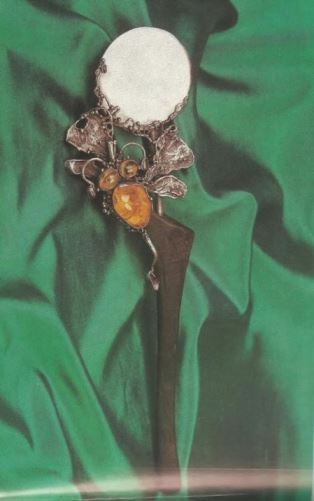 Gregory's work was always unusually creative and very technically advanced, was usually one of the most unique in Poland, Sweden, and also Europe.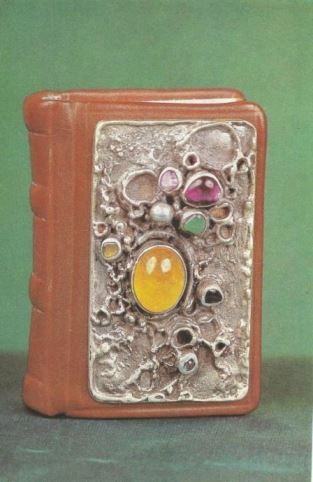 In the 1970's Gregory also created jewellery in Sweden. In 1976 he had a show Tidö Slott, in Tidö-Lindö, Sweden where he received a special order for Queen Silvia's and Karl Gustav's the XVI wedding.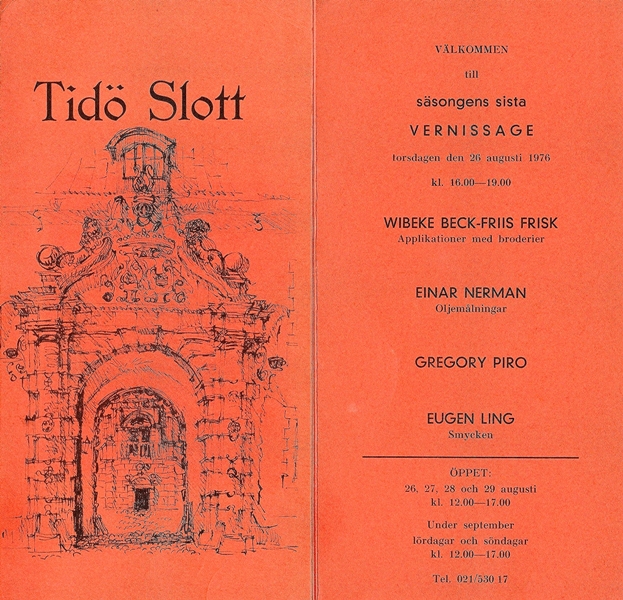 From the 1980's to 2000's, Gregory created jewellery in the United States where many top gift shops and top art and craft galleries carried his work for a number of years, around the entire country. Also from the 1980's until the present Gregory painted Still Life and Surrealism, which recent works can be seen below.
In the US there were hundreds of collectors of his jewellery. Meanwhile since 2000's, a few pieces have also made there way around Europe and to Australia with the help of it being discovered on the internet. To see new work recently made please click the link below.
Youtube playlist of Gregory's recent work. Click the video to watch the playlist.
Youtube playlist of Gregory's recent work. Click the video to watch the playlist.
Youtube playlist of Gregory's recent work. Click the video to watch the playlist.
A Few Facts About the Artist and About His Experience
1. The artist who makes the jewellery clocks a whopping of fifty years of handson jewellery making experience.
2. The the artist has international experience in creating, making, and selling one of a kind jewellery internationally both in Europe and the US.
3. Gregory Pyra Piro jewellery has been offerred by many craft galleries in the US for over 20 years.
4. Gregory Pyra Piro's work has been published in books and magazines and the work was or may still be on display in National Museums in Europe
5. Gregory Pyra Piro's work has been written about by some of the most professional people in the industry.
6. Gregory's work was purchased for the Royal Family in Sweden in 1976.
Sterling Silver with Solid 14 Karat Gold
1. The jewellery is not just from sterling silver, but it is from both sterling silver and solid 14 karat gold.
2. Sterling silver and solid 14 karat gold handmade jewellery is a very rare item that only a very few artists make.
3. Sterling silver and solid gold accent jewellery is not to be confused with cheaper production sterling silver jewellery with gold plated accents.
5. Solid 14 karat gold accents will not wear off like gold plated accents on cheaper produciton jewellery because the gold is solid gold.
6. It is safe to repolish sterling silver jewellery that has solid gold accents because the accents will not polish off.
7. The solid gold 14 karat gold accents can amount to double the value of the sterling silver in each piece despite of its much lesser quantity.
More About the jewellery
Unique from sterling silver and solid gold with unusual combinations of faceted gemstones with seaglass, faceted gemstones with amber, or gemstones with pearls, this jewellery is a very unique composition. Originally made by hand tools and soldering it is still made the same way, made from sterling silver sheet metal and silver wire which is cut, hammered, polished and shaped. Each of the bezels are custom made for each of the gemstones. Nothing is cast. The sterling silver base metal and other components are assembled together by soldering, and the addition of the solid 14 karat gold over the sterling silver base is soldered onto the sterling silver base with a torch, which melts in unique intricate forms and patterns.
See the new work right here!